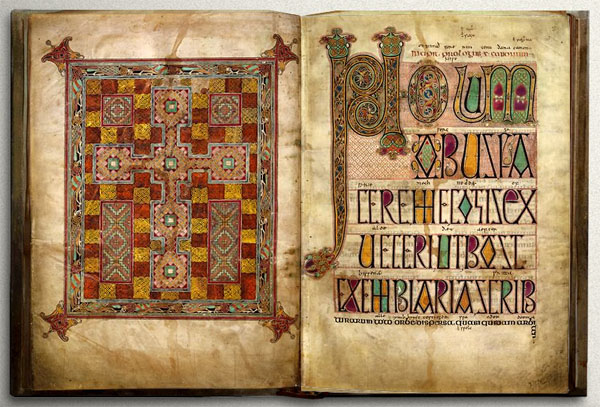 As part of the British Library's commitment to digitising some of the most extraordinary manuscripts, we now have access to the Anglo Saxon Lindisfarne Gospels through its
'Turn the Pages' application
- This allows you to turn the pages of the manuscript, magnify it, hear an audio description of the page or read a written description.
The highlights from the Lindisfarne gospels are free for a limited time and the full version can be bought
as an app
for ipad. Once again the BL makes me wish I owned an ipad!
The physical gospels are currently being exhibited in Durham from today (1st July)! See the website
here
.
"

The Lindisfarne Gospels book is one of the greatest landmarks of human cultural achievement. Created by the community of St Cuthbert on Lindisfarne it is one of the best examples of Medieval creativity and craftsmanship.
The Lindisfarne Gospels Durham exhibition presents for the first time the extraordinary full story of the Lindisfarne Gospels, exploring how and why this masterpiece was created, its influence on Medieval Europe and how artistic traditions from Britain and the Mediterranean mainland came together in North East England.
At the centre of the exhibition in Durham University's Palace Green Library is the gospel book itself, written in honour of St Cuthbert. In addition many fabulous artefacts from Anglo-Saxon England will be on show including ornate gold objects from the Staffordshire Hoard, intricately carved stone from Lindisfarne and silver from Hexham, alongside some very special medieval manuscripts such as the St Cuthbert Gospel and the Durham Gospels. These items place the Lindisfarne Gospels within a wider context of Anglo-Saxon creativity and show how incredibly complex and elaborate Medieval craftsmanship was."