Virginia Woolf's 'fun side' isn't really a revelation if you've read novels like 'Orlando', but new Woolf material is always welcome!
In this case, editions of 'The Charleston Bulletin' founded by Woolf's nephews Quentin and Julian Bell in the summer of 1923.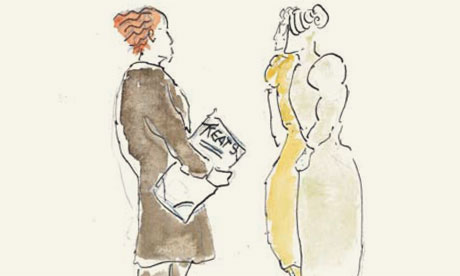 '
"It seemed stupid to have a real author so close at hand and not have her contribute," he said of the project.
Woolf agreed to get involved, and wrote or dictated a series of supplements – illustrated by Quentin – for the newspaper between 1923 and 1927. The booklets describe the escapades, characters and antics of Bell and Woolf's family, as well as their household servants and members of the Bloomsbury Group.'
The British Library will publish The Charleston Bulletin Supplements this June. You can read
excerpts
and see illustrations here -
http://www.guardian.co.uk/books/2013/feb/07/virginia-woolf-lighter-side-unseen-manuscripts?CMP=twt_gu